Hindu – Brahmin – Iyengar – Matrimonial Adds
Welcome to the fortunate wedding, a unique matrimonial website dedicated to helping Iyengar families find their perfect match. We are a 100% free and secure platform that offers a wide range of services to our members.
OUR HUGE SERVICES
• Comprehensive profiling and partner search
• Easy and secure communication
• Professional counseling
• Specialized matchmaking services
• A host of additional services
OUR MISSION
Our mission is to provide our members with an easy and secure way to find their perfect match for a brahmin marriage. We strive to create an online community that fosters relationships built on mutual respect and understanding. We understand that every family is different, and that's why we offer an array of services to meet the individual needs of our members.
Our team of experienced matchmakers will work with you to find the perfect match for your family. We have a large database of potential brahmin groom or bride matches and we are constantly updating our list with new bridal and groom matrimony entries. We also offer counseling services, which can help you better understand the needs of your family and the expectations of the prospective partner.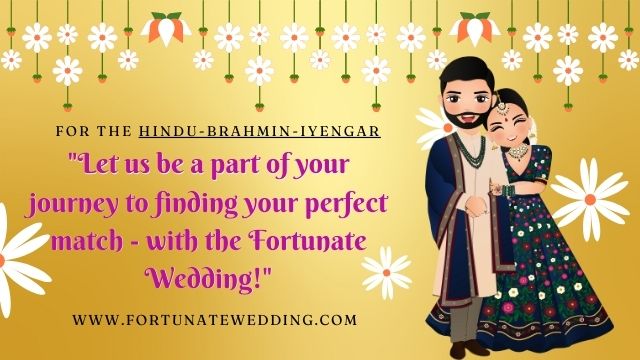 JOIN US TODAY
We understand that finding the right partner is an important decision and our goal is to ensure that you find the perfect match. We would like to inform you that we are providing the fortunate wedding app for both Android and iOS users. Please make sure to download the app from the official website or from the App Store.
We offer 100% free registration and look forward to helping you find your perfect match.