Hindu – Brahmin – Kulin – Matrimonial Adds
A Warm Welcome to all Hindu-Brahmin-Kulin Community!
We at Fortunate Wedding Matrimonial site are proud to announce our 100% free registration. We are dedicated to the Hindu-Brahmin-Kulin community and we welcome all members of this community to register with us and create their matrimonial profiles.
Hindu-Brahmin-Kulin is a community of people having a proud and rich heritage that dates back to centuries. They are known for their values and culture which is deeply rooted in their tradition. This community is also known for its famous personalities who have made great contributions in various fields, be it literature, music, politics or art.
We understand the importance of finding a perfect partner for marriage and we are here to help you out. We provide a safe and secure platform for you to browse and find the perfect match for yourself. With the help of our advanced search feature, you can easily narrow down your search and find the most suitable partner for yourself.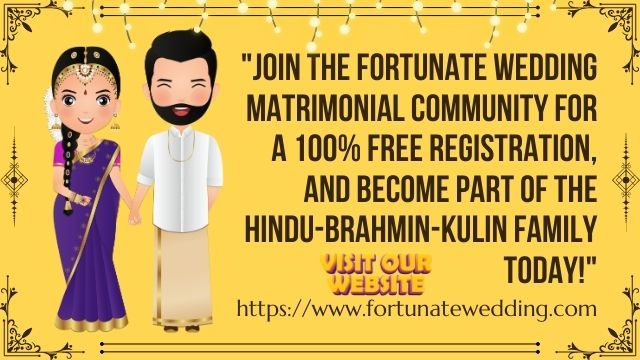 We also have a dedicated customer service team who will be more than happy to assist you in any way possible.
So, what are you waiting for? Sign up with us today and find your life partner at Fortunate Wedding Matrimonial Site.
Don't forget to download our app for a more convenient and hassle-free experience.
We hope you have a great experience with us and wish you all the best for your lovely future.