Hindu – Brahmin – Hoysala – Matrimonial Adds
The Brahmin-Hoysala community of Karnataka is one of India's oldest and most respected communities. The community is known for its strong religious values, traditional culture, and its strong sense of identity. The Brahmin-Hoysala community is an amalgamation of two distinct communities; the Brahmin and the Hoysala. Both of these communities have a long and proud history, and their traditions are still very much alive today.
At the Fortunate wedding Matrimony, we understand the importance of finding that special someone. We are committed to providing the best possible experience for our brahmin grooms and brides. We take pride in offering 100% free registration and many services to help you make the most of your matrimony journey.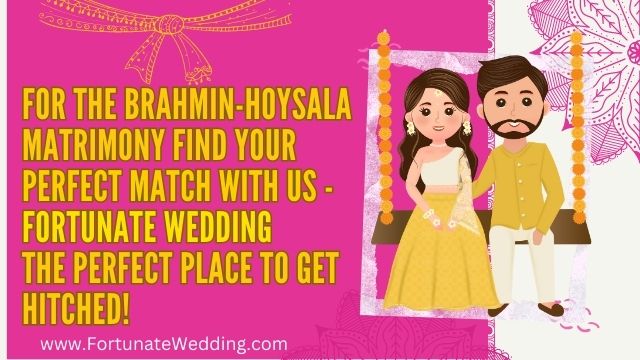 OUR MISSION
Our mission is to help you find the perfect match for your special day. We have a vast database of eligible Brahmin-Hoysala brides and grooms, so you can be sure to find the right one for you. Our experienced team of matchmakers will work closely with you to ensure that you get the perfect match that meets all of your expectations.
HUGE SERVICES
We also provide a variety of services to make your matrimony journey as easy and stress-free as possible. We also offer pre-wedding consulting services to help you make the right decisions when it comes to your big day.
At our brahmin matrimonial site, we are dedicated to making your wedding day a day to remember.
Download the app for free
We understand that you would like to install theFortunate Wedding Matrimonial app. To ensure security, we strongly recommend that you download the app from our official website. This is the only way to be sure that you are getting the latest version of the app with the latest security updates
Register now and find your perfect match today!