Hindu – Brahmin – Goswami – Matrimonial Adds
Hindu Goswami is a community of Hindus in India who are traditionally associated with occupations such as farming and priestly services. They follow Vaishnavism, a sect of Hinduism that worships Lord Vishnu and his various incarnations.
Some famous historical personalities of the Hindu Goswami community are Ramanujacharya: a Hindu philosopher and theologian who propounded the Vishishtadvaita philosophy and is known as the founder of Sri Vaishnavism.Madhvacharya: a Hindu philosopher and theologian.Vallabhacharya: a Hindu philosopher and theologian who propounded the Pushtimarga philosophy.
We are thrilled to offer free registration for our Hindu Goswami Community. Our community is dedicated to the success and joy of all our members. We are devoted to helping you find the perfect life partner and create a beautiful, harmonious, and fulfilling marriage.
The Hindu Goswami Community provides an easy and efficient way for you to find your ideal partner. You can search for members based on religious beliefs, age, education level, profession, and more. We also provide an online messaging service to ensure that you can get in touch with those who interest you.
For those seeking the ultimate in convenience and ease of use, we also offer a VIP membership package. This package offers a display of single matrimony ads on elite pages and common pages in text and JPG format for one year. Check current ads rate from our membership pages for more information.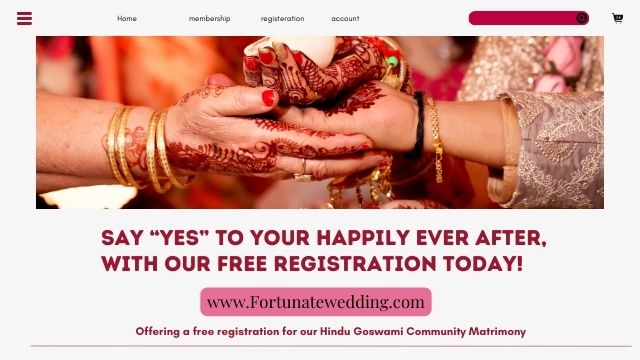 We do not vouch for or subscribe to any claims or representations made by advertisers regarding the particulars of status, age, or income of the bride or bridegroom. We also urge all our members to register with their WhatsApp number, if they wish to receive quick responses. All of our members are guaranteed discretion and privacy.
We wish you all the best on your journey toward finding a life partner. We are confident that you will find your perfect match on our Hindu fortunate website.