Hindu – Brahmin – Davadnya – Matrimonial Adds
The Hindu Davadnya Community is a caste of the Vaishya Varna, or merchant class, and is primarily found in the states of Maharashtra, Karnataka, and Goa. They are generally involved in small businesses such as grocery, and provision stores, and are also involved in the trading of agricultural products.
Historical personalities of the Davadnya Community include Bhaskar Rao Raje Moreshwar, the founder of the ruling family of the princely state of Jamkhandi; Sadashiv Rao, the first chief of the Jamkhandi state; Raja Vitthal Rao, who ruled Jamkhandi; and Dinkar Rao, the last ruler of the princely state of Jamkhandi.
When it comes to celebrating the joyous occasion of a wedding, the Hindu Davadnya community has an age-old tradition of celebrating it with grandeur.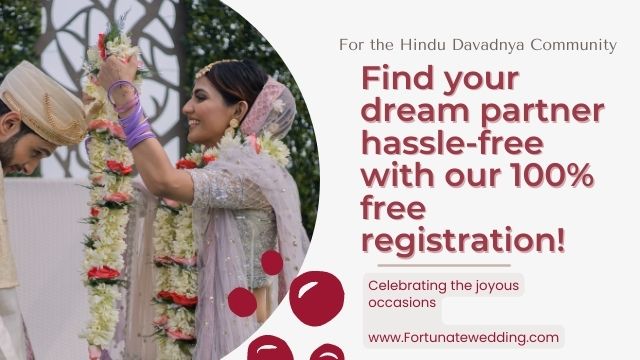 We at Fortunate wedding, a matrimonial website, understand the importance of this traditional ceremony and are here to help you find the perfect match for your son or daughter. Our registration process is 100% free and we do not charge any fees for the same. We want to ensure that everyone gets an opportunity to find their perfect match.
We offer a wide range of services to make this process easier and more convenient for you. Our VIP Membership package offers a display of Single Matrimony Ads on Elite Pages and common pages in Text and JPG format. You can check the current ads rate from our membership pages. Moreover, we also insist our users register with their Whatsapp number for a quick response.
We understand that a wedding ceremony is a once-in-a-lifetime event and so we are here to help you!